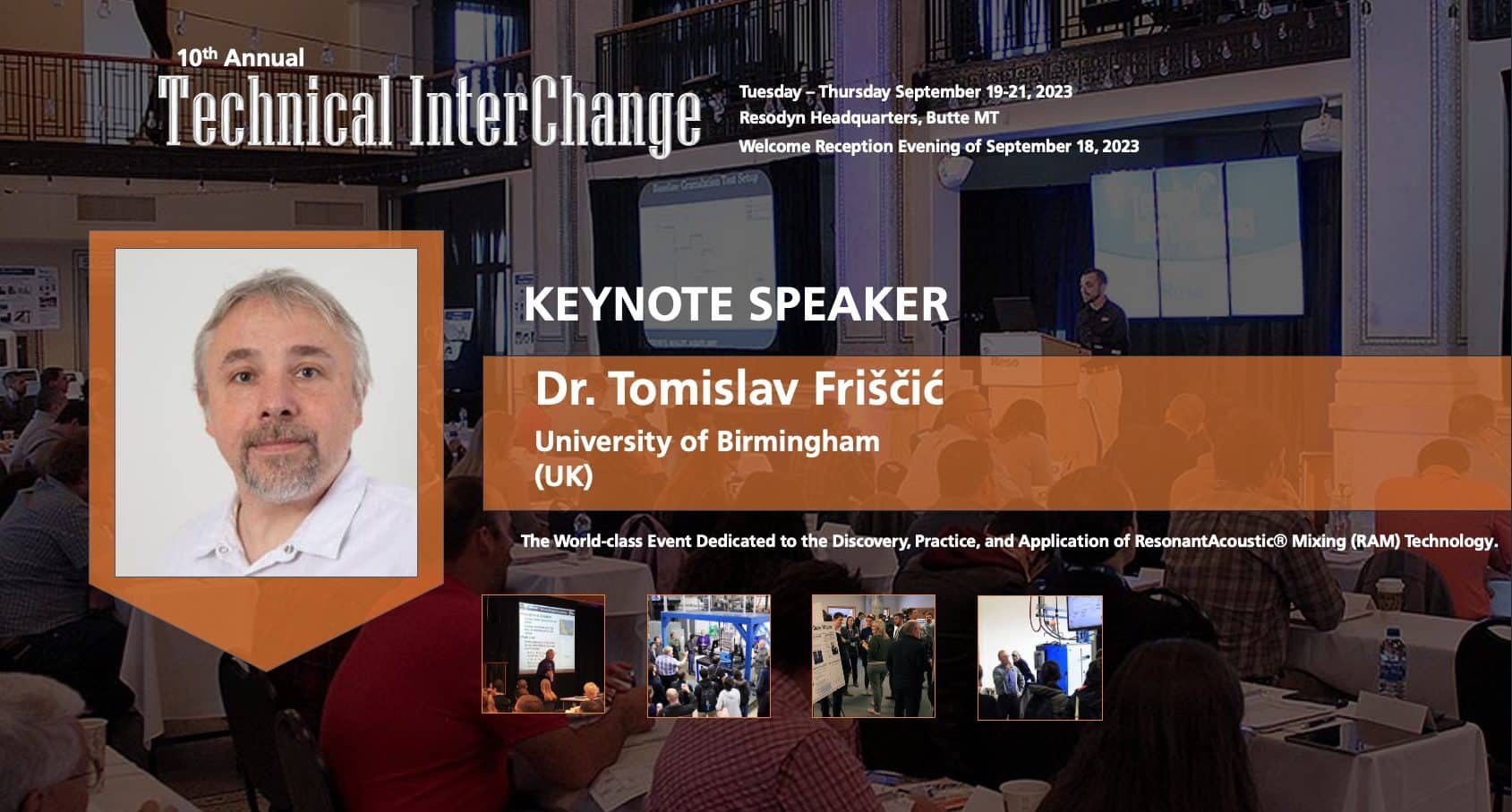 Resodyn Acoustic Mixers is pleased to announce that one of the leading researchers in solid-state chemistry and mechanochemistry, Prof. Tomislav Friščić will be our keynote speaker for Technical InterChange 2023.  Dr. Friščić is currently a Professor and Leverhulme International Chair in Green and Sustainable Chemistry at the University of Birmingham (U.K.). With his group and collaborators, he has co-authored >300 publications, book chapters and patent applications, and has received a multitude of international awards.
He is also the founding Co-Editor-in Chief of a recently created journal of the Royal Society of Chemistry (RSC) – RSC Mechanochemistry.  The Journal focuses on the publication of innovative research that advances the fundamental understanding and application of the use of mechanical force for driving and controlling chemical reactions and material transformations in gas, liquid, and solid states.
A global leading expert in mechanochemistry (chemical synthesis induced by external mechanical energy input), Dr. Friščić will share his insight regarding the influence and tremendous potential impact of ResonantAcoustic® Mixing Technology on the future of efficient, solventless chemical processes and manufacturing.
"Dr. Friščić's work with mechanochemistry is truly cutting edge and his reputation is global. We are more than excited to host Dr. Friščić at what will be our 10th annual Technical Interchange.", says Larry Farrar, CEO of Resodyn Acoustic Mixers, Inc. "We are very eager to see how our ResonantAcoustic® Mixing Technology is shaping the future of mixing and explore the new applications which have been revealed by our customers."
For nearly a decade (2010-2019), Resodyn Acoustic Mixers, Inc. has hosted some of the top scientific minds in the world for an event amply named the Technical InterChange. The COVID-19 Pandemic brought the ever-growing event to a standstill for three years; however, the company is determined to breathe life back into its heralded conference. The Technical InterChange (https://resodynmixers.com/technical-interchange-2023/) is scheduled for September 19-21, 2023 from Resodyn Acoustic Mixers' Global Head Quarters in Butte, Montana. A welcome reception will proceed the event on the evening of September 18 at Butte's Historic Front Street Station, and the associated RAM 5 Operations Certification Course is slated for Friday – September 22 immediately following the conference.
Headquartered in Butte, MT, Resodyn Acoustic Mixers, Inc. designs, manufactures, markets, sells and distributes its patented ResonantAcoustic® Mixing "RAM" technology to customers around the globe. This universal mixing technology specializes in the intricate processes involved in the manufacturing of energetics, pharmaceuticals, energy storage/batteries and numerous other advanced materials. RAM products provide rapid, bladeless mixing for any combination of powders, slurries, viscous pastes and liquids.
Please follow us on LinkedIn at https://www.linkedin.com/company/resodyn-acoustic-mixers-inc./