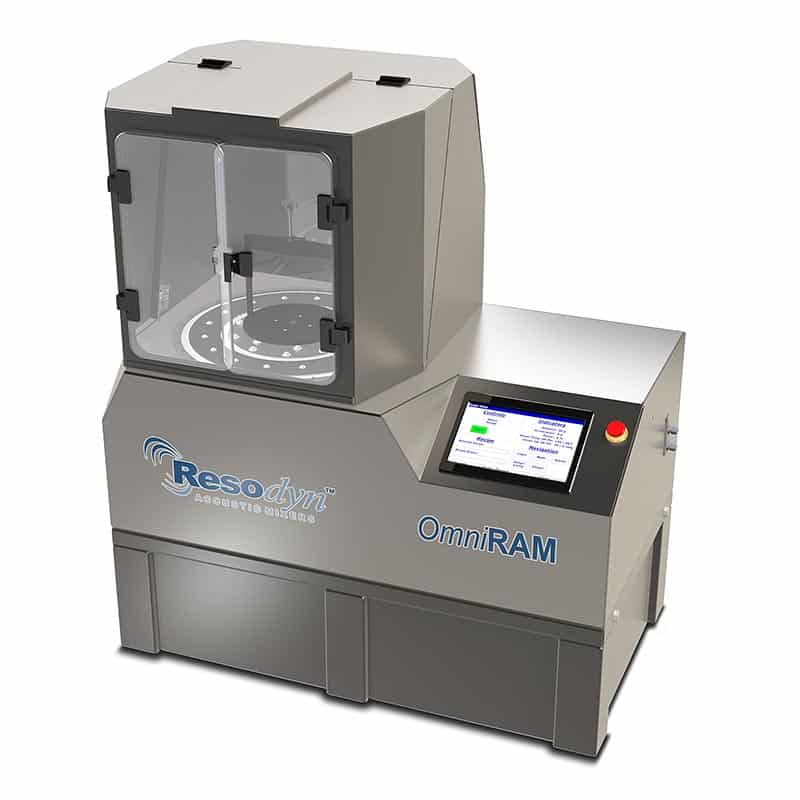 BUTTE, MT - Resodyn Acoustic Mixers announces the release of the OmniRAM™, a pilot and production scale acoustic mixer. This new addition to the ResonantAcoustic® Mixing (RAM) product line is designed to provide world-class RAM mixing performance while bridging the gap between Resodyn's LabRAM II – 1 kg capacity system and the RAM 5 – 36 kg system. OmniRAM can process materials faster, better, more efficiently, and more productively with a payload capacity of up to 5 kg (11 lb).
Customers trust the core RAM technology for mixing of powders, liquids, gases, and viscous materials at higher quality and lower cost than many traditional mixing technologies. ResonantAcoustic® Mixing is a non-contact mixing system that employs low-frequency acoustic mixing at intensities up to 100g's of acceleration without the inherent issues associated with the use of conventional, contact-based mixing technologies.
The New OmniRAM™ Features Include:
Increased Capacity: Maximum payload capacity of 5 kilograms (11 lb) provides the flexibility to process at a test or pilot scale, as well as production levels.
Mixer Versatility: RAM's universal vessel holder allows for multiple mixing vessel types. Vacuum and jacketed accessories are also available to increase processing capabilities, eliminating cross-contamination and clean-up while processing virtually any type of material.
Increased Security Features: RAM on-board operating system provides machine operations control, recipe development and storage, as well as multiple level, digital security and access control from operator to supervisor.
Processing Accessories/Upgrades:
Vacuum System: Separate Manual or OmniRAM™-Controlled Automatic Vacuum Systems provide degassing and improved processing functions
Jacketed Vessel: Allows for mixing vessel temperatures from 302oF / 150oC to 34oF/1.1oC
Temperature Monitoring: On-board tracking of internal temperature of mixing vessel
Continuous Processing: Innovative Continuous Acoustic Mixing (CAM) feature breaks through the batch-based throughput barrier with non-stop powder and solids processing at the highest dispersion and uniformity levels
Hazardous and Energetic Applications
OmniRAM can also be configured for optional certification in Class l Div l and Div ll, Groups C – G environments, providing a specially designed and manufactured platform for hazardous and energetic materials processing.
For more information and product specifics, please see the OmniRAM product page here.