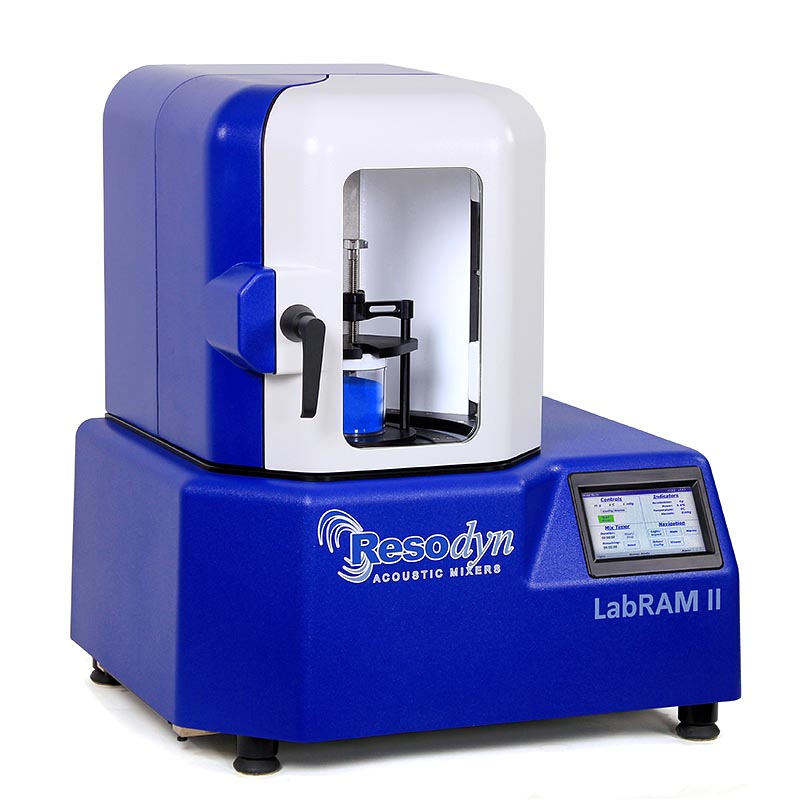 BUTTE, MT - Resodyn Acoustic Mixers announces the release of their new developmental mixer, the LabRAM II. This second generation of ResonantAcoustic® Mixing (RAM) technology introduces significant benefits for mixing and processing a broad variety of applications in commercial industries from advanced materials to cosmetics.
RAM customers have come to rely on the core RAM technology for high quality and low cost mixing of liquids, solids and gases. The technology allows users to employ intense, low-frequency acoustic mixing at up to 100g's of acceleration without the inherent issues associated with the use of conventional mixing technologies.
"LabRAM II fundamentally changes the basic principles of processing and mixing," according to Resodyn President and CEO, Lawrence Farrar. "Speed and quality are key in today's demanding material applications, and LabRAM II delivers both at twice the capacity of the first generation of LabRAM. The innovative performance and integrated features open many more facilities to the benefits of RAM technology in a more efficient, safe, and productive manner."
Designed around Dynamic Processing Requirements
The LabRAM II is designed to respond robustly to users' dynamic requirements. LabRAM II's new features are numerous, with double the capacity of previous LabRAM models. Now up to 2.2 pounds per mix capacity, LabRAM II provides manual or automatic/programmable vacuum operation, vessel cooling capability, temperature monitoring, control and data collection of the mixing vessel contents, and integrated RAMware2 operating system.
Integrated Component Design
The fully integrated LabRAM II houses all electronic, power and control hardware onboard, eliminating the need for a separate control component. The LabRAM II acoustic housing features strobe lighting to facilitate observation and inspection of the mixing phases and progress.
Learn more here.