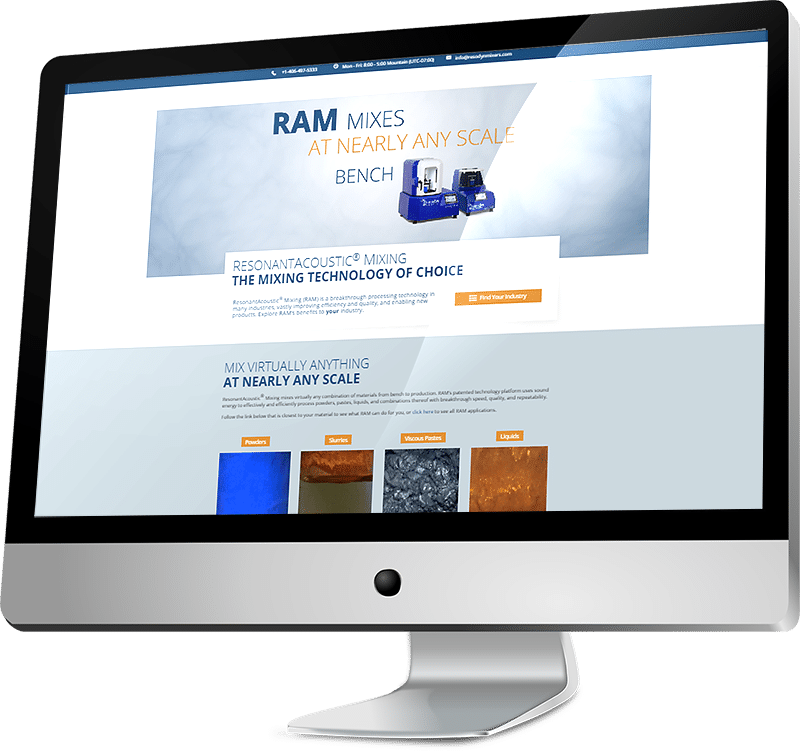 BUTTE, MT – Resodyn Acoustic Mixers, Inc. announces the launch of a new, resource-rich ResodynMixers.com website. The site is designed to offer customers fast access and insight into how ResonantAcoustic® Mixing (RAM) can benefit them. ResodynMixers.com reveals the breadth of applications and industries already leveraging the company's technology. The site offers a rich depth of documentation and technical data and provides a platform for additional content as it is produced.
ResonantAcoustic® Mixing is a 21st Century mixing technology, delivering new capabilities and unprecedented speed and quality across a wide range of processing applications. RAM extends robust, enabling features from laboratory bench scale development devices to continuous production systems at an industrial scale.
Acoustic Mixing is powerful, versatile, and easy to use. At the same time, its effectiveness is non-intuitive without seeing it in action. Our new website actively shows visitors what RAM technology can do with more high-speed, inline video, and a growing library of downloadable technical content that highlights how RAM users are already benefiting today.

- Larry Farrar, Resodyn Acoustic Mixers President and CEO,
ResodynMixers.com also delivers quick access to on-site demonstration scheduling, trial rental programs, and complimentary mixing tests.
Questions and feedback about the new site are welcome and can be sent to webmaster@resodyn,com.