Learn Why RAM is the 
Mixing Technology of Choice for Technical Ceramics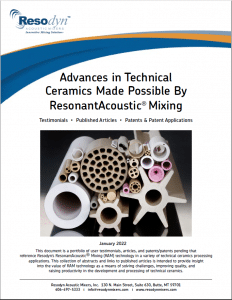 Technical ceramics, also known as "high-performance" or "engineered" ceramics, are characterized by combinations of inorganic materials with physical and thermal properties that make them viable options for applications in which other materials (including conventional ceramics) aren't feasible. Technical ceramics enable and create new opportunities for mechanical and plant engineering, foundries, automotive manufacturing, textile manufacturing, electronics, and medical technology applications.
Please fill out and submit the form below to download this folio of insightful testimonials and links to informative technical papers, articles and patents involving RAM's impact on the development and use of technical ceramics.
Technical Ceramics Folio Download Request
Form that allows the download of the Technical Ceramics Folio from Resodyn.