RAM DELIVERS BEST-IN-CLASS MIXING
Enables Innovation
Consistent Homogenization
Ease of Scale-up
Repeatable Results
FOR SPECIALTY MATERIALS PROCESSING

RAM DELIVERS BEST-IN-CLASS MIXING
Enables Innovation
Consistent Homogenization
Ease of Scale-up
Repeatable Results
FOR SPECIALTY MATERIALS PROCESSING
THE SPECIALTY MATERIALS PROCESSING 
TECHNOLOGY OF CHOICE
Providing a standardized platform for material processing development, Resodyn Acoustic Mixers, Inc. provides a complete range of mixing equipment geared toward advanced specialty material manufacturing companies.
ResonantAcoustic® Mixing technology is unique to the specialty material mixing industry. Its advanced processes have opened the door to a vast array of exciting innovations and diverse industry applications.
ResonantAcoustic® Mixing provides a uniquely scalable stage for technological development.
This low frequency (60 Hz) mixing system provides unparalleled consistency in performance and repeatability from which to base the advancement of material processing. ResonantAcoustic® Mixing (RAM) technology has been the preferred embodiment for the invention of a multitude of Patent Applications. RAM is simply the "best mode known" for consistent lab scale, bench scale and commercial scale development of mixing innovations.
RAM enabled advancements include but are not limited to:
Cosmetics
Dental Products
Elastomers
Electronics Materials
Graphene Inks
Lubricants
Medical Devices
Nanomaterials
Pigments
Sintered Materials
Super Abrasives
Synthetic Polymers
Technical Ceramics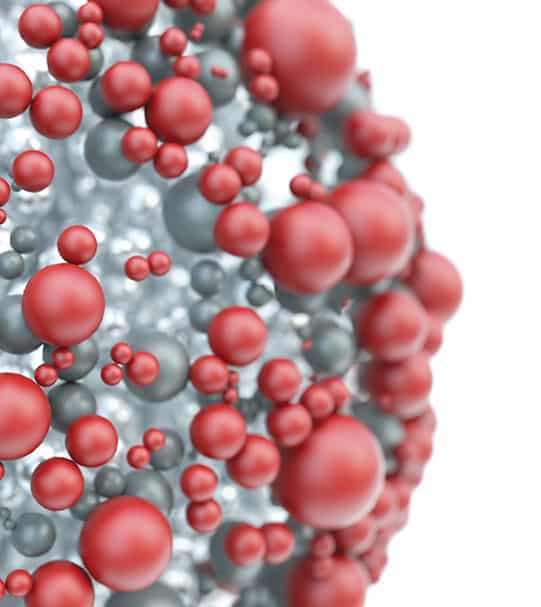 INDUSTRY EXPERT 
Testimonials
"... [ResonantAcoustic® mixing] is a fantastic technology. It has revolutionized the way we mix for development of materials for additive manufacturing..."
- Nik Ninos,  Research and Development Manager, Calix Ceramic Solutions
"Resonant acoustic mixers from Resodyn have proven to be extremely valuable in graphene development for our clients. It is critical for nanotechnologies such as graphene to be processed with the level of exacting consistency and particle distribution, especially at low loadings, that RAM has proven to consistently achieve."
- Research Scientist, European Nanomaterial Research Organization
"[We] mix different rheologies with powder metals, highly viscous, and the LabRAM II has proven it can do that effectively. We're very impressed with the build quality of the mixer--it's a nice, solid, well-thought-out piece of equipment. It's done very well for us."
- Managing Engineer, Major U.S. Research Laboratory
THE UNIVERSAL
MIXING SOLUTION
The ResonantAcoustic® Mixer (RAM) product line harnesses the power of resonance (low-frequency sound) to generate powerful and efficient mixing of complex Solid-Solid, Solid-Liquid, Liquid-Gas, and Liquid-Liquid Blends.   Benefits include;
10-100X faster

mixing times

bladeless non-contact mixing

consistent homogenization

repeatable

scalable

durable

custom engineered systems



reliable

cost saving

eco-friendly operation


unmatched safety
LEARN MORE ABOUT HOW
RAM CAN HELP YOU
Videos
Industry Folio
Patents
Dissimilar Powder Mixing
Dry ingredients can be difficult to thoroughly and consistently mix, particularly when the particles are of different sizes and characteristics. To illustrate effective and rapid mixing, 10 grams of fumed silica is blended with 100 grams of sand. Completed specimens exhibit no airborne fumed silica, demonstrating uniform blending at an order of magnitude difference in particle size.
Milling and Nano Coating
Coating larger particles with smaller ones is a common processing application, and milling is often a part of the same process. In this video, agglomerated carbon black particles are simultaneously milled to nano size particles that coat the plastic pellets completely in just a few seconds. The high speed video clearly illustrates the dispersion of carbon black particles, their de-agglomeration, and progressive and comprehensive coating of the plastic pellets.
Powder Incorporation in Viscous Liquid
Many polymer-based materials require the addition of dry or powder materials for specific performance characteristics or coloration. To illustrate dry powder incorporation in a viscous liquid, a small amount of dry ingredient is rapidly blended with a viscous liquid. The newly captured mixing phenomena reveal how the thoroughly blended and uniform mixture is achieved in a very short mixing time.
Download this folio of insightful testimonials and links to informative technical papers, articles and patents involving RAM's impact on the development and use of advanced specialty materials processing.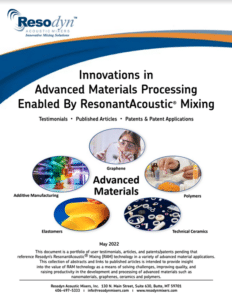 SPECIALTY MATERIALS PROCESSING 
PRODUCTS