RAM DELIVERS BEST-IN-CLASS MIXING
Controlled Temperatures
Uniform Dispersion
Enables Mixing in Application Vessel
Repeatable Results
FOR ADHESIVES AND SEALANTS

RAM DELIVERS BEST-IN-CLASS MIXING
Controlled Temperatures
Uniform Dispersion
Enables Mixing in Application Vessel
Repeatable Results
FOR ADHESIVES AND SEALANTS
BEST PRACTICE FOR MIXING 
ADHESIVES AND SEALANTS
Resodyn provides ResonantAcoustic® Mixers (RAM) to manufacturers of resin systems for the Aerospace and Defense Industries. RAM rapidly and thoroughly mixes polymers, fillers, curing agents, and additives under controlled temperature.
The RAM process allows reliable repeatability and order of magnitude faster processing with uniform dispersion of materials even when materials are shear sensitive or have high viscosity.  The shortened mix times result in lower mix temperatures and extended pot life.
The RAM systems are used for challenging mixing applications in a broad range of commercial manufacturing sites worldwide. RAM systems are bladeless and mixing occurs within a closed mixing vessel, which prevents cross contamination and provides for ease of cleanup. Mixing of adhesives in adhesive and sealant application vessels (such as a SEMCO tube) have been shown to be effective.
Applications for RAM products in the Adhesives & Sealants (Aerospace and Defense) Industry are inclusive of:
Advanced Ceramic Components
Epoxies
Filled Resins
Polyimide Films
Pre-ceramic Polymers
Rocket Insulation
Silicones
Specialty Sealants
Structural Adhesives
Syntactic Foams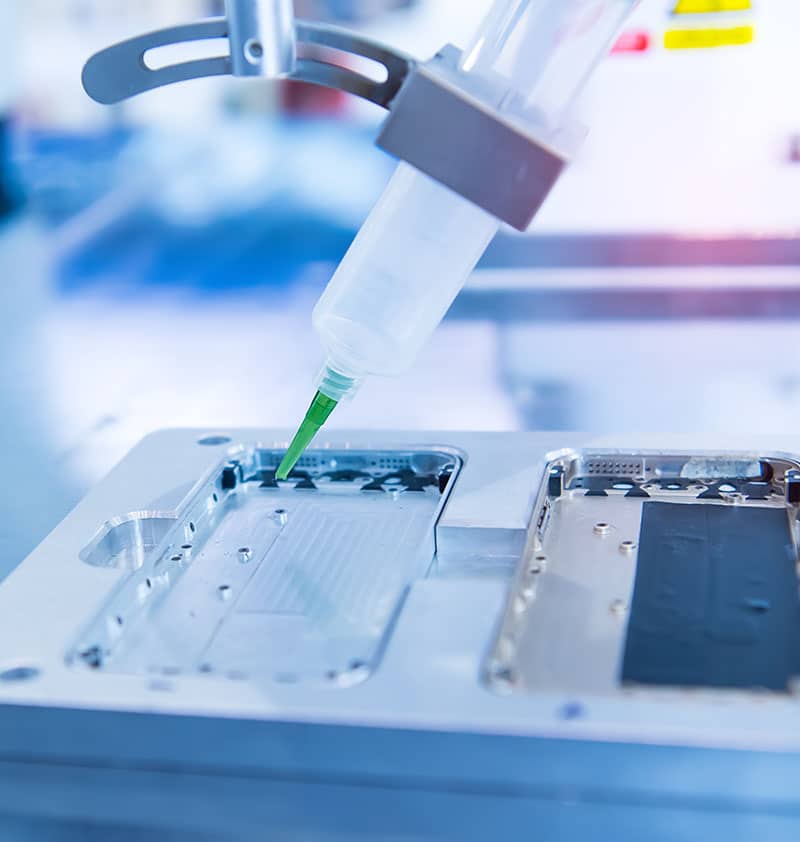 INDUSTRY EXPERT 
Testimonials
"…We were using reciprocal shakers to dissolve product we sampled off one of our high-volume production lines, and it was taking four hours just to prep the material for testing. Once we started using the LabRAM, it cut that time from four hours down to 20 minutes."
- Global Synthetic Rubber Manufacturer
"...In laboratory-scale sensitivity testing, RAM materials were more homogenous with similar/slightly lower sensitivity than mix-muller produced materials. . ."
- SERDP Project WP-2631, 2020
"projected benefits of a production-scale RAM process may result in significant increases to overall throughput, labor cost reduction of 61-96%, and a reduction in acetone used for cleanup operations by over 99%..."
–SERDP-ESTCP project
THE UNIVERSAL
MIXING SOLUTION
The ResonantAcoustic® Mixer (RAM) product line harnesses the power of resonance (low-frequency sound) to generate powerful and efficient mixing of complex Solid-Solid, Solid-Liquid, Liquid-Gas, and Liquid-Liquid Blends.   RAM systems provide;
10-100X faster

mixing times

bladeless non-contact mixing

consistent homogenization

repeatable

scalable

durable

custom engineered systems



reliable

cost saving

eco-friendly operation


unmatched safety
LEARN MORE ABOUT HOW
RAM CAN HELP YOU
Videos
Industry Folio
Patents
Download this folio of insightful testimonials and links to informative technical papers, articles and patents involving RAM's impact on the development and use of Adhesives and Sealants.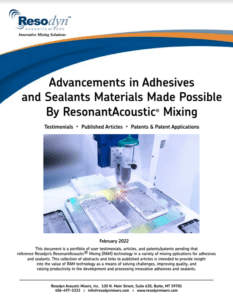 ADHESIVE AND SEALANT
PRODUCTS